Lenny Kravitz's Net Worth and Remarkable Career Journey
Lenny Kravitz's Net Worth
Lenny Kravitz, the Grammy-winning American singer, songwriter, musician, actor, and record producer, has amassed a net worth of $90 million. With 11 studio albums and over 40 million copies sold worldwide, Kravitz has established himself as a prominent figure in the music industry. His debut album, "Let Love Rule" (1989), achieved Gold status in several countries, including the United States. Notable albums such as "Are You Gonna Go My Way" (1993) and "5" (1998) attained 2x Platinum certification. His single "It Ain't Over 'til It's Over" (1991) peaked at #2 on the "Billboard" Hot 100 chart.
In addition to his music career, Kravitz has made significant contributions to the film and television industry. He has appeared in notable projects such as "Precious" (2009), "The Hunger Games" series (2012), and the FX series "Better Things" (2016). In 2011, Kravitz received France's highest honor, becoming an Officer of the Ordre des Arts et des Lettres.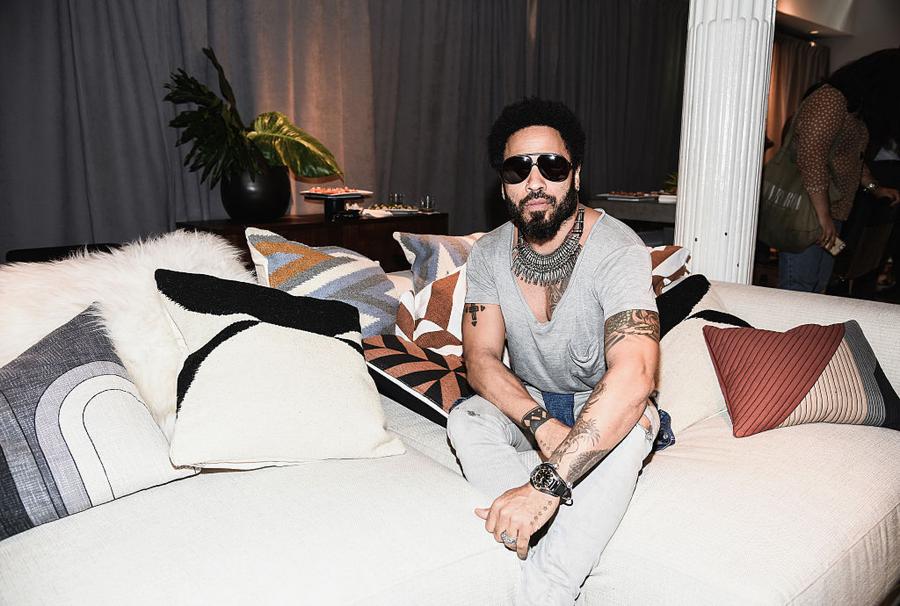 Kravitz's early life was influenced by his parents' backgrounds in entertainment. Born in New York City in 1964, his mother, Roxie Roker, was a renowned actress known for her role in "The Jeffersons," while his father, Sy, worked as a news producer for NBC. Growing up, Kravitz developed a passion for music, playing drums and guitar and drawing inspiration from various genres such as jazz, R&B, blues, and gospel. After attending Beverly Hills High School alongside future stars Slash and Nicolas Cage, Kravitz pursued his musical aspirations and began his journey as a professional musician.
Throughout his career, Kravitz has released a series of successful albums, including "Mama Said" (1991), "Are You Gonna Go My Way" (1993), and "5" (1998). His accomplishments have earned him four Grammy Awards, with his hit single "Fly Away" winning Best Male Rock Vocal Performance in 1999. Kravitz's artistic talents extend beyond music, as he founded Kravitz Design Inc. in 2003, specializing in residential and commercial design. His creative endeavors also encompass photography, with his works showcased in exhibitions and collaborations with Leica.
On the personal front, Kravitz has had notable relationships and friendships within the entertainment industry. He was previously married to actress Lisa Bonet, and they have a daughter together, Zoë Kravitz, who has achieved success as an actress. Kravitz has also been involved in various charitable organizations, supporting causes such as Artists Against Racism, Amnesty International, and Zero Hunger through his Let Love Rule Foundation.
In addition to his artistic endeavors, Kravitz has made notable real estate investments. He has owned properties in Miami, Paris, Brazil, the Bahamas, and New Orleans. Notably, he sold his Manhattan duplex penthouse to Alicia Keys and Swizz Beatz in 2010.
Lenny Kravitz's net worth, remarkable music career, acting achievements, design ventures, and philanthropy highlight his multifaceted talents and enduring impact on the entertainment industry.
Kravitz's contributions to the music industry have earned him widespread recognition and numerous awards. He has been nominated for a total of nine Grammy Awards, with victories in the category of Best Male Rock Vocal Performance for four consecutive years from 1999 to 2002. In addition to Grammy accolades, he has received an MTV Video Music Award for Best Male Video for his hit song "Are You Gonna Go My Way?" and a Brit Award for International Male Solo Artist.
Beyond his musical achievements, Kravitz has made a name for himself in the world of design. In 2003, he founded Kravitz Design Inc., a company specializing in residential and commercial design projects. His unique style and artistic vision have been applied to various ventures, including the creation of two camera designs for Leica, a renowned camera manufacturer. In 2019, an exhibition of his photography took place at the Leica Gallery in Germany, showcasing his talent behind the lens.
Kravitz's artistic pursuits have also extended to acting, where he has showcased his talent on both the big and small screens. He has appeared in notable films such as "Precious" (2009), "The Hunger Games: Catching Fire" (2013), and "The Butler" (2013). In addition to his film work, he has made cameo appearances as himself in movies like "Zoolander" (2001) and its sequel, "Zoolander 2" (2016). On television, Kravitz had a recurring role as Roland Crane in the Fox series "Star" (2016).
In his personal life, Kravitz has been connected to several high-profile relationships. He first met actress Lisa Bonet in 1985 and they began dating after two years of friendship. The couple married in 1987 and had a daughter, Zoë Kravitz, who has emerged as a successful actress in her own right. Although Lenny and Lisa divorced in 1993, they have maintained a close friendship and continue to support each other's endeavors.
Throughout his life, Kravitz has explored different dietary choices and has embraced various lifestyles. He has followed vegetarian, vegan, and raw food diets at different stages, reflecting his commitment to personal well-being. Additionally, Kravitz has been involved in numerous charitable organizations, using his platform to support causes such as Artists Against Racism, Amnesty International, Rock the Vote, and Zero Hunger. He established the Let Love Rule Foundation, his own charitable organization, to further his philanthropic efforts.
With a career spanning decades, Lenny Kravitz has made a lasting impact on the music, design, and entertainment industries. His impressive net worth of $90 million reflects his artistic achievements, while his philanthropic endeavors and personal values showcase his commitment to making a positive difference in the world. Kravitz's multifaceted talents continue to captivate audiences and inspire aspiring artists worldwide.
Source:Usdailyguide.com
Tagged:
Lenny Kravitz's Net Worth