Phil Mickelson Biography
Phil Mickelson, born on June 16, 1970, in San Diego, California, is an American professional golfer known for his exceptional skills on the PGA Tour. With a career spanning several decades, Mickelson established himself as one of the most dominant players in the 1990s and early 2000s.
Mickelson Early Life
Mickelson's journey in golf began at an incredibly young age, swinging his first golf club at just 18 months old. He initially mirrored his father's right-handed swing but later adopted a left-handed stroke, earning him the nickname "Lefty." As a junior golfer, he achieved remarkable success, winning numerous tournaments in the San Diego area. His talent and dedication were recognized with three consecutive national Junior Player of the Year awards from 1986 to 1988.
Earning a full scholarship, Mickelson attended Arizona State University (ASU), where he solidified his status as one of the greatest American amateur golfers in history. Throughout his four years at ASU, he consistently earned first-team All-American honors and claimed three NCAA individual championships (1989, 1990, and 1992). In 1990, he achieved another milestone by winning the U.S. Amateur Championship. The following year, while still an amateur, he triumphed in his first PGA Tour event, the Northern Telecom Open, joining the elite group of amateurs to achieve such a feat.
Phil Mickelson's early successes laid the foundation for his illustrious professional career. As a professional golfer, he has secured numerous victories on the PGA Tour, including major championships. His charismatic personality, left-handed swing, and strategic approach to the game have endeared him to fans worldwide.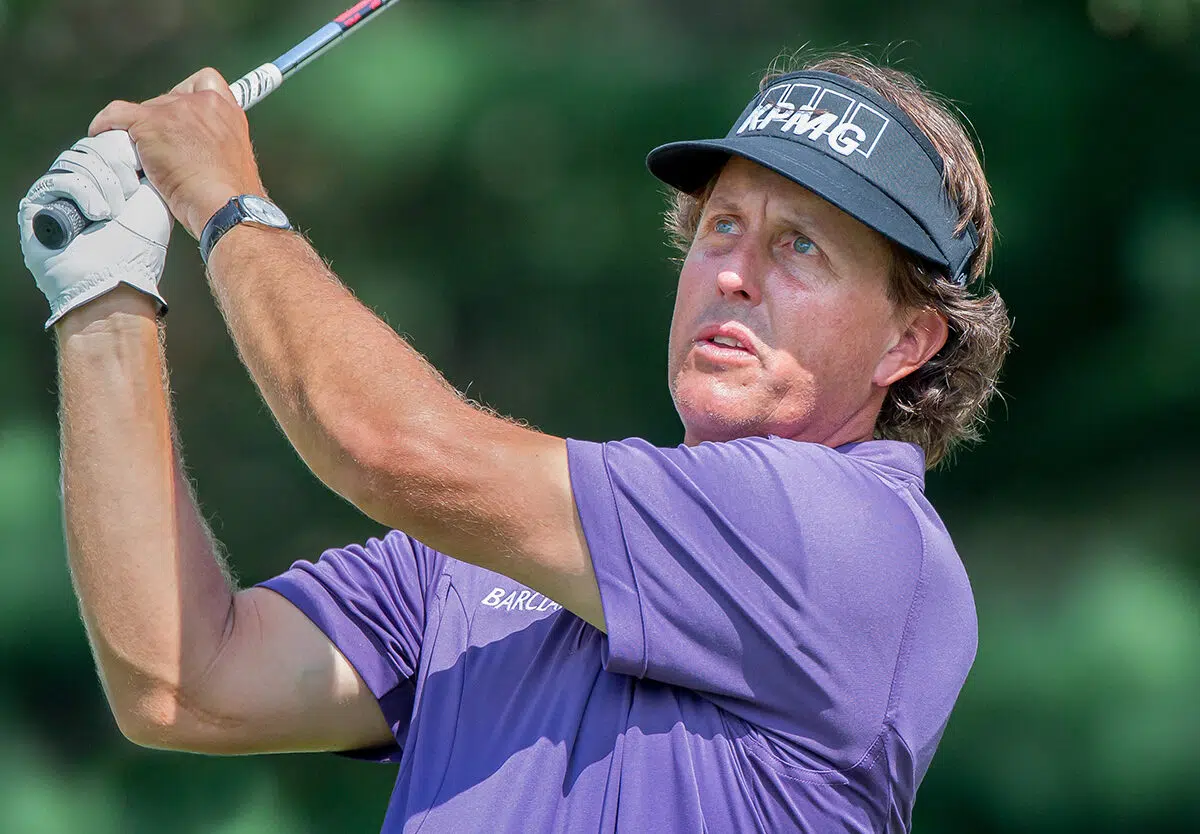 Throughout his career, Mickelson has been recognized for his philanthropic efforts and contributions to the sport of golf. With his talent, accomplishments, and unwavering passion for the game, Phil Mickelson has solidified his status as one of golf's legendary figures.
College Champion
After graduating from the University of San Diego High School in 1988, Mickelson enrolled at Arizona State University to pursue a degree in psychology. His time at Arizona State saw him rise to the top of the national amateur golfing ranks. Mickelson achieved great success, winning three NCAA individual championships and three Haskins Awards, recognizing him as an outstanding collegiate golfer. He became only the second collegiate golfer to receive first-team All-American honors in all four years.
In 1990, during his junior year in college, Mickelson made history as the first left-hander to win the U.S. Amateur title. In the same year, he surprised critics by winning his first PGA Tour tournament as an amateur, making him the fourth golfer in PGA history to accomplish this feat.
Mickelson earned his bachelor's degree from Arizona State University after his victory in Tucson in 1991. On the eve of his 22nd birthday in 1992, he turned professional.
Pro Golf Stardom and First Masters Win
In 1993, Mickelson secured his first professional title at Torrey Pines, marking the beginning of his journey to become one of the best in the sport. Over the next decade, known by his nickname "Lefty," he established himself as a formidable force. He claimed victories at the Byron Nelson Golf Classic and the World Series of Golf in 1996, the AT&T Pebble Beach National Pro-Am in 1998, and the Colonial National Invitation in 2000. In that same year, he defeated the favorite Tiger Woods and ended his streak of consecutive tournament victories by winning the Buick
Invitational.
Despite his consistent strong performance, Mickelson struggled to win major tournaments, earning him the unofficial title of the "best player to never win a major." However, his breakthrough came at the 2004 Masters when, at the age of 33, he birdied five of the final seven holes, including the 18th hole, to secure a one-stroke victory over Ernie Els. Overwhelmed with joy, Mickelson described the win as almost "make-believe."
More Major Titles
Mickelson wasted no time adding more major titles to his name, winning the 2005 PGA Championship and securing a second Masters victory in 2006. In 2007, he became one of golf's highest-paid players with estimated earnings of $42 million, according to Forbes.
Continuing his winning streak, Mickelson claimed victory at the 2007 Players Championship and the 2009 Tour Championship. At the 2010 Masters, he showcased a remarkable performance, making a strong comeback on the back nine of the third round and maintaining his lead on the final day to earn his third green jacket. Two years later, he was rightfully inducted into the World Golf Hall of Fame.
Although he narrowly missed another major win, finishing as the runner-up in the 2013 U.S. Open, Mickelson bounced back in the following month's British Open. With an impressive display of golf, he birdied four of the last six holes to secure victory, describing it as one of the most memorable rounds he had ever played.
In May 2021, Mickelson etched his name in the history books by winning the PGA Championship at the age of 50, making him the oldest winner of a major golf championship ever.
Dry Spell
Following a winless year in 2014, Mickelson experienced another second-place finish at the 2015 Masters, marking his tenth runner-up finish in a major competition. However, adding to his career tally of 42 PGA titles would prove to be one of the greatest challenges he faced.
PGA Tour
Mickelson became a member of the PGA Tour in 1992. He secured his first professional victory at Torrey Pines Golf Course in San Diego in 1993, a place where he had previously played golf during his high school years. Over the next three years, Mickelson triumphed in at least one tournament each year. In 1996, he achieved his first top-10 world ranking (seventh) at the end of the PGA season. His ranking rose to second in 2001, trailing behind Tiger Woods.
During the following decade, Mickelson and Woods developed a rivalry that dominated the sport. Their contrasting personalities and approaches to the game divided golf fans. Mickelson, known for his outgoing nature, and Woods, a more reserved figure, drew attention. Despite his remarkable success on the Tour, Mickelson acquired a reputation as the best player in the world who had never won a major tournament, including the Masters, the U.S. Open, the British Open, or the PGA Championship. This distinction was particularly burdensome as he finished second or third in six majors between 1999 and 2003.
Finally, in 2004, Mickelson broke through and won his first major title, the Masters, edging out Ernie Els by one stroke. He continued his impressive performance throughout the season, finishing in the top six in the remaining 2004 majors. Only a year later, he secured his second major victory at the 2005 PGA Championship, followed by another win in the 2006 Masters. In April 2010, Mickelson claimed his third green jacket as the Masters champion, joining a select group with the third-highest career total in the tournament's history.
After his third Masters triumph, Mickelson's success slightly declined, winning just one tournament each year from 2010 to 2012. In 2013, he made a remarkable comeback at the British Open, overcoming a five-shot deficit on the final day to capture his first victory in that tournament. However, he faced subsequent struggles and did not secure another PGA Tour event win until 2018. The following year, he celebrated his 45th career PGA title by triumphing at the Pebble Beach Pro-Am. During this period, Mickelson also participated in the Ryder Cup and contributed to the winning team in 1999, 2008, and 2016. In 2021, he clinched his sixth major title, the PGA Championship, marking his first tour victory in over two years and becoming, at the age of 50, the oldest winner of a major tournament in PGA history.
In early 2022, Mickelson generated controversy by supporting LIV Golf Investments, a Saudi-backed company launching a tour that offered substantial financial rewards to PGA players. Criticism arose, claiming that LIV was an attempt by the Saudi government to "sportswash" its human rights violations. Mickelson acknowledged the Saudis' human rights abuses but believed that the new tour could lead to changes within the PGA, which he accused of excessive greed. Subsequently, Mickelson apologized for his "reckless" comments and withdrew from several PGA events, including the PGA Championship. The PGA responded by warning players that joining LIV would result in being barred from PGA Tour-sanctioned events. In March 2022, Mickelson received a two-month ban from the PGA after allegations that he had recruited players for the new venture, and the suspension was later extended in the following months.
Tagged:
Phil Mickelson